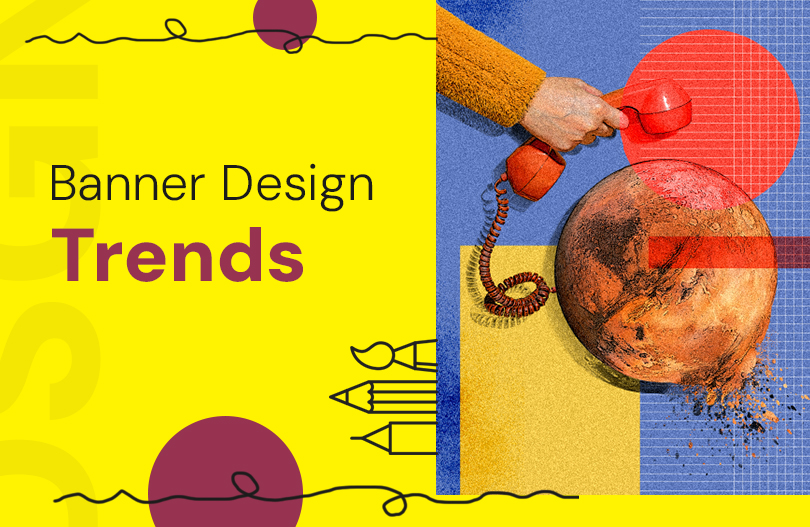 Strategies and Emerging Trends in Banner Design for Performance Marketing
"Mastering banner design is the art of sculpting digital experiences that not only capture attention but also etch your brand's identity into the embroidery of the online world."
Whether you're an e-commerce brand aiming to boost sales or a website owner enhancing user experience, the significance of well-crafted banners cannot be overstated.

This article delves into the world of banner design, exploring its strategies and trends.
Strategies for Effective Banner Design
Knowing your audience is the compass that directs every stroke of the banner designer's brush, illuminating the path to hearts and wallets with designs that resonate, inspire, and convert!
Simplicity in banner design is not just about aesthetics; it's a powerful strategy that reveals the essence of a brand's message in a single, captivating glance.

Simplicity is thus the hallmark of effective banner design. Cluttered, overly complex banners can overwhelm and confuse viewers. Instead, opt for clean, minimalistic designs that emphasize a single, clear message. A simple banner allows the viewer to grasp the key information at a glance.
In the world of performance marketing, copy in the banner design is the artist's brush stroke that paints the path to engagement and conversion.

Thus, the text on your banner is as important as the visuals. Craft concise, compelling copy that conveys your message with impact. Use action-oriented words, such as "Shop Now," "Save Big," or "Limited Time Offer," to encourage user engagement.
High-Quality Imagery


Visual appeal is paramount in banner design. Use high-quality images and graphics that are relevant to your message and brand. Ensure that your images are clear, well-composed, and resonate with your target audience.

A/B Testing:


A/B testing is an indispensable tool in banner design. Create multiple banner variations and run tests to determine which ones perform best. This data-driven approach helps you refine your designs and improve click-through rates and conversions
Emerging Trends in Banner Design
To stay ahead in the ever-evolving landscape of performance marketing, it's essential to keep an eye on the latest banner design trends. Here are some trends that are shaping the field:
Video banners are gaining traction as they captivate and engage audiences better than static images. Short video clips can tell a compelling story, showcase product features, or convey your brand's personality effectively.
Interactive banners encourage user engagement. Elements like clickable buttons, sliders, and hover effects make banners more dynamic and draw the viewer's attention.
Animation and Motion Graphics
Animation and motion graphics are powerful tools for conveying complex information in an engaging way. They add a touch of creativity and excitement to your banners.
Personalized banners deliver tailored content to individual users based on their behaviour, preferences, and demographics. This level of customization enhances user experience and boosts conversion rates.
Given the increasing use of mobile devices, designing banners with a mobile-first approach is essential. Ensure your banners are responsive and look great on all screen sizes.
Animation and Motion Graphics
Animation and motion graphics are powerful tools for conveying complex information in an engaging way. They add a touch of creativity and excitement to your banners.
In conclusion, mastering banner design is a fundamental component of performance marketing.
A well-designed banner can be a game-changer for your marketing efforts, attracting more clicks, conversions, and ultimately, revenue.
As the E-commerce landscape continues to evolve, creative shoots are indispensable to remain successful in the online marketplace. ODN Digital is known for its professional banner design.
If you aspire to captivate hearts and minds with amazing professional banner design , contact ODN Digital Services.
Our team of highly qualified professionals with expertise in their respective fields aims to give you the best solutions for your brands. With seven years of experience and knowledge, we are confident that we can deliver top-notch services tailored to meet your objectives.