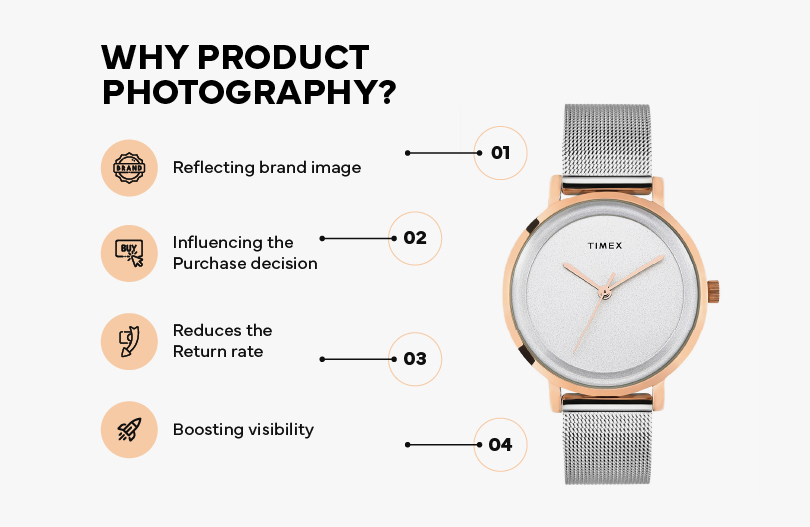 Why is product photography essential for Conversions?
In the world of e-commerce, the saying "an image speaks louder than words" holds true. A well-captured product photo has the ability to attract numerous website visitors. We are naturally inclined toward visual stimuli, and product photography plays an important role in creating that crucial first impression that determines whether a consumer will continue browsing or leaving the page.
Product photography captures images that are intended for sale. These images have the power to compel shoppers to make a purchase since they showcase the product's details, features, and benefits. These product images are also paired with well-crafted product descriptions. Hence, product photography is an essential component for brands that aim to succeed in the online marketplace.
Here are some reasons why product photography is crucial for brands:
Investing in professional product photography helps communicate your brand's values and identity to consumers. It portrays your brand as professional, trustworthy, creative, and innovative. High-quality images convey the message that your brand cares about the consumers' needs and wants, which instills confidence in them.
Influencing The Purchase Decision
In a world full of distractions, captivating product photography is essential to capture and hold consumers' attention. Presenting your products in an aesthetically pleasing and enticing manner can significantly influence their purchase decisions. Images create an emotional connection and persuade consumers to choose your brand over competitors.
One of the main reasons consumers return products is because the actual product doesn't match the online image. Product photography plays an important role in setting accurate expectations for your consumers. By showcasing your products in a truthful and appealing way, you can build trust and eradicate doubts that the product will meet their expectations.
To increase brand awareness and visibility and finally drive sales, you need to put your brand in front of potential consumers. Incorporating product images into your marketing campaigns is an effective way to achieve this. You can also attract new audiences by incorporating product shots into your social media calendar.
In short, product photography is an indispensable tool for brands that operate in the digital landscape. It not only helps in building a positive brand image but also influences customer decisions, tells your brand story accurately, and boosts visibility.
If you are looking for a company that is known for its innovation, contact ODN Digital Services.
Our team of highly qualified professionals with expertise in their respective fields aims to give you the best solutions for your brands. With seven years of experience and knowledge, we are confident that we can deliver top-notch services tailored to meet your objectives.